Here at last, y'all! It's time to live the decal dream! (Well, 1/3 of it. ONE AT A TIME, ONE AT A TIME!)
BATHROOM RENO PICS!
First, I need to give you a tour of what we were working with. Hold onto your 1990 hat and experience...
THE PREVIOUS OWNERS' LIFE: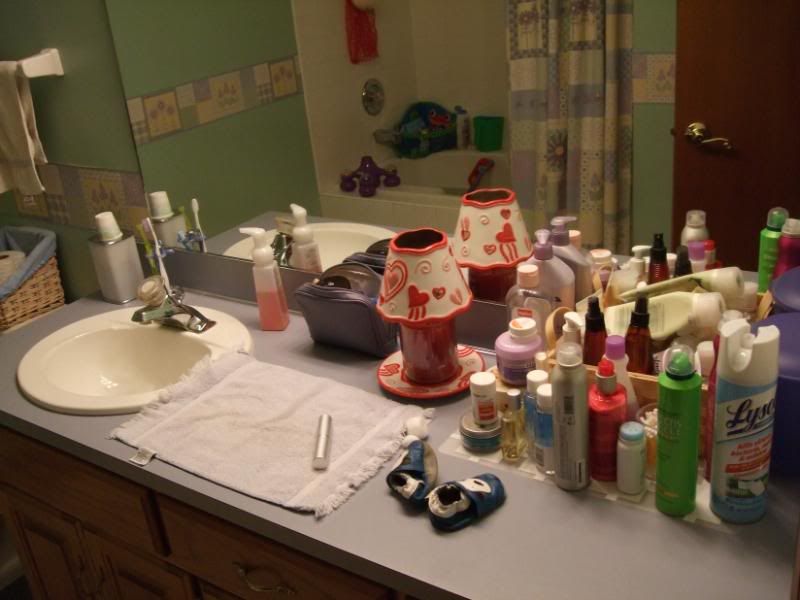 This one really gives you full scope into the bathroom we lived in for too long. Sure, I didn't clutter the countertop with all of the potions and lotions as Mrs. 1990 (and WHY WOULD YOU DO THAT when people are home-touring? Talk about DE-EMPHASIZING THE ONE GOOD FEATURE OF THIS BATHROOM, the size of the countertop). But look in the mirror, my pretties, and see the wall color.
Mint green. With an incredibly corny border and MATCHING SHOWER CURTAIN.
Full disclosure (and I am truly ashamed to have to disclose this): we kept BOTH THE BORDER AND THE SHOWER CURTAIN up until mid-March. We moved in last May. NOT BECAUSE WE LIKED IT, but because we didn't know "what we were going to do to the room" and didn't want to buy something that wouldn't work. I don't know WHY we didn't at least remove the border.
BUT! When Gramma Goose and Grampa PhD were in town, we painted that sucker at last! And last night, after cursing our heads off while Kiddokabiddo slept and we tussled with our decals, I present to you:
OUR LIFE
NOT BAD!
Additional changes included swapping this light fixture
for this
Reno still to come: tiling the floor, replacing the blue countertop (with white soapstone? Thoughts? Suggestions?), and the purchase of dark brown toilet seat cover/shower mats.
Worth the wait?